Breakfasts & Summer Nights
BREAKFAST
our breakfast is served at the reception (with the possibility of being consumed in the apartment) from 08:00 to 10:00 (with the possibility of anticipating the time, by prior arrangement), full of quality local and homemade products, with express coffee.
BY BOOKING BEFORE 19:00 THE DAY BEFORE AT THE RECEPTION, THROUGH THE "MEALS" BUTTON OF THE APP OR WITH A MESSAGE IN CHAT / WHATSAPP
(for bookings with breakfast included, CAMPALLEGRO breakfast will be served with the possibility of ordering express dishes in the morning (NOT INCLUDED), drinks are included)
BREAKFAST MENU
TO BE BOOKED THE DAY BEFORE
SWEET BREAKFAST 5.00€
empty croissant, bread, nutella,homemade fruit jams, butter.
SALTY BREAKFAST 8.00€
Tuscan focaccia, bread, cereal breadTuscan cold cuts (ham and salami), Tuscan pecorino cheese, butter, fresh seasonal or preserved vegetables, of our production.
CAMPALLEGRO BREAKFAST 10.00€
1 sweet breakfast + 1 salty breakfast
EXPRESS DISHES
TO BE BOOKED THE DAY BEFORE
OR ALSO WITHOUT BOOKING UNTIL 11:00 (subject to availability)
empty croissant 1.50€
croissant with nutella or jam 2.00€
eggs of our poultry house boiled, scrambled or fried with roasted bread and butter 5.00€/portion.
yogurt with muesli and fresh fruit / jam (subject to availability) 5. 00€
customizable stuffed focaccia (cold cuts, cheese, vegetables) 3.00€
DRINKS….
Espresso 1.50€
Espresso macchiato 1,70€
Double Espresso 3,00 €
Coffee americano (big espresso + hot water) 2,50€
Cappuccino/latte macchiato 2.50€
Hot tea 3.00€
Hot chocolate 4.00€
Decaffeinated coffee 1.50€
Coffee scecherato  4.00 €
 Coffee scecherato with wiskey cream 6.00 €
Fresh orange juice 5,00€
BIO apple juice (bottle 25cl) 3,00€
Water (1Lt bottle) 2,50€
Discover all our service….
Download our "campallegro" APP on your device at this link: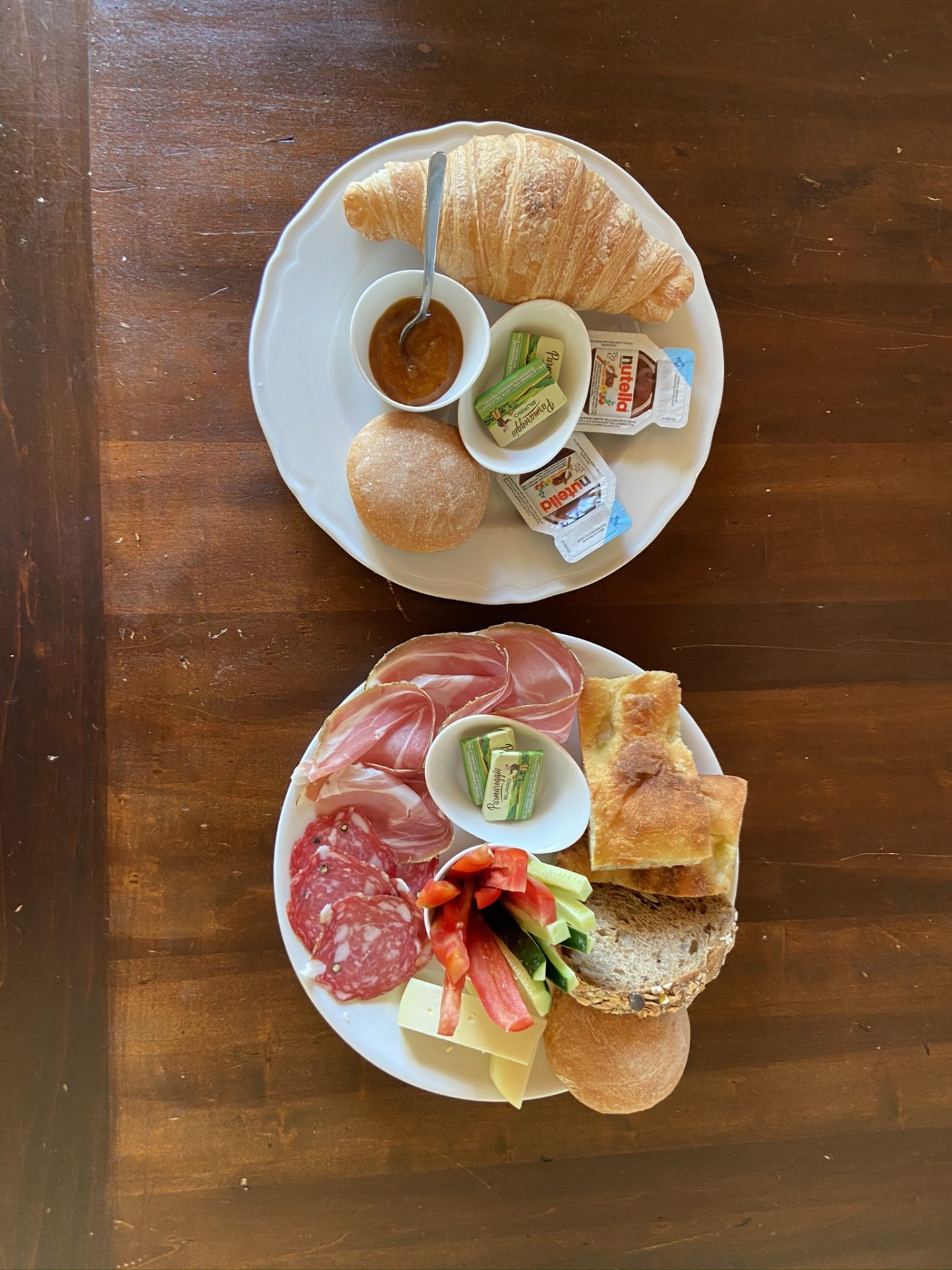 SUMMER NIGHTS
During the summer, on our holiday farm, we usually organize themed wine and food events with the tasting of our products, other local and Tuscan.
Our soirees take place in a special area, where all the guests can taste quality food in an informal atmosphere, as if part of a big family in keeping with the holiday farm style.